Katie's Take-Out Restaurant

---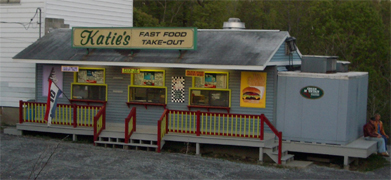 Open 7 Days A Week!!!
Don't forget to stop by on weekend mornings for breakfast. The menu includes breakfast sandwiches, French toast sticks, hash browns and always, freshly brewed Green Mountain Coffee.

We offer a wide selection of grinders and sandwiches including our scrumptious Katie's hamburgers and cheeseburgers. We also have fresh fried and rotisserie chickens and don't forget to stop by on Fridays for fresh Fish & Chips. We only use 0% Trans-Fat oil.

Ice cream is the perfect ending to any meal and at Katie's Takeout we offer soft serve cones, Razzles and milkshakes.

Call ahead with your order to avoid waiting (413)-269-7485. And remember, good food takes time to prepare, so your patience at busy times is appreciated.